News And Events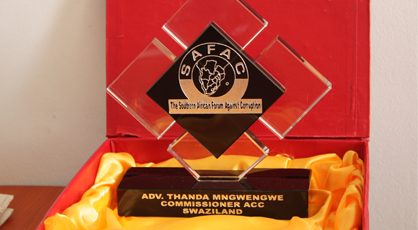 ADVOCATE THANDA MNGWENGWE RECEIVES REGIONAL AWARD
The Anti-Corruption Commissioner recently received a regional Award from the Southern African Forum against Corruption in recognition of this contribution towards the fight against corruption in the region.
The Commissioner, after receiving the ward, thanked SAFAC for the recognition and thanked members of staff as he believes the award belongs to them.
He also committed to working diligently for the people of Swaziland in fighting corruption without fear or favour.